UMC And PAM Health Establish Joint Venture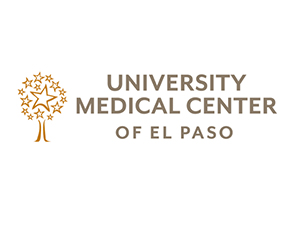 May 10, 2023
Download PDF
EL PASO, Texas – University Medical Center of El Paso and PAM Health announced today they are collaborating to expand access for patients who need inpatient rehabilitation services. Through a joint venture, a UMC subsidiary and PAM Health will share ownership of an inpatient rehabilitation hospital located at 1600 East Cliff Drive in Central El Paso. This adds a new service line for UMC, which previously only offered outpatient rehabilitative services.
The facility offers the latest therapeutic equipment to help patients recover from illnesses and injuries such as stroke, amputation, and cardiopulmonary conditions.
"Through this new joint venture, El Pasoans will be able to receive a high level of personalized attention and one-on-one treatment from physical, occupational, and speech therapists in a state-of-the-art facility," said Jacob Cintron, President and CEO of UMC El Paso. "This partnership falls in line with our mission to pursue access to healthcare for all members of our community and exceeding their expectations every time."
PAM Health provides a wide-range of comprehensive programs that ensure high-quality care in a comfortable setting that includes private family suites.
"PAM Health has had a strong presence in Texas since our beginning, but the El Paso location is our first inpatient and outpatient rehabilitation hospital in the El Paso region," said Anthony Misitano, Founder, Chairman and CEO of PAM Health. "By partnering with a well-established and trusted healthcare leader such as University Medical Center, we hope to improve the health and well-being of our community with access to high-quality rehabilitation services."
Ribbon-Cutting Ceremony:
When: Thursday, May 11 at 3:30 p.m.
Where: 1600 East Cliff Drive 79902
###
About PAM Health:
PAM HEALTH (PAM) based in Enola, Pennsylvania, provides specialty healthcare services through more than 70 long-term acute care hospitals and physical medicine and rehabilitation hospitals, as well as wound clinics and outpatient physical therapy locations, in 17 states. PAM Health is committed to providing high-quality patient care and outstanding customer service, coupled with the loyalty and dedication of highly trained staff, to be the most trusted and impactful source for healthcare services in every community it serves. Its mission is to serve people by providing compassionate, expert care, and to support recovery through education and research. Learn more at PAMHealth.com.
About UMC: For 108 years, University Medical Center of El Paso (UMC) has been providing exceptional, high quality care for the entire El Paso region. UMC is home to the region's only Level I Trauma Center, the only Comprehensive Level I Stroke Center, and the only Level IV Maternal Critical Care Center. UMC's mission is to Heal, to Serve and to Educate. For more UMC News, go to: http://www.umcelpaso.org (News Releases at bottom of main page.)